Anyone tried relining the brake shoes for their vintage (pick on) bike where replacements are no longer available? I just did, and this pretty much covers it.
I bought a set of Vesrah shoes for my '67 CL77 when my rear OEM linings were almost gone, and they were a perfect fit. Ooorah! Whoops - slight issue – the lining material is as hard as a brick and they tend to squawl (is that a word?? pretty badly upon application. I've tried a couple of different tricks to try and quiet them down, but to no avail.
The Vesrahs were the only ones I found that would fit the bike, but if there are others out there, I haven't found them yet. Otherwise, I may try relining my original shoes. Material is out there so it may be my only option to try and quiet down the back end of the bike.
Time moved on and I picked up some lining material of the proper width and thickness from McMaster-Carr, and a can of Pliobond, which can be heat-cured similar to Anabond, a product from India that's been the cat's back side for bonding linings for years, but they seemed to have gone dark over the last few months.
Was waiting to hear back from a company that makes clamping fixtures, as seen below, to get a quote. I suspect they'll be off the scale for a one-off use buy, but figured I'd ask anyway. And as per typical, it's been a couple of days now and I've heard nothing. Frustrates the crap out of me that people/companies have their sites with contact pages to inquire about their products, but they never respond back.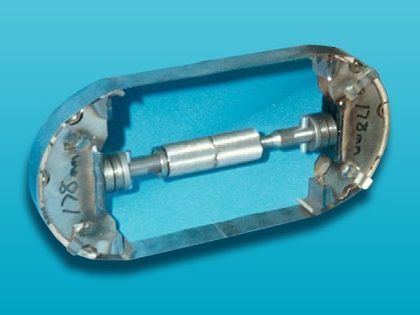 The company with the elongated band and tightening (turnbuckle) arrangement eventually got back to me after sending them a bunch of measurements, but we've played phone tag for a couple of days to see what their pricing was. Since they're closed for the entire next week, I still don't know, but we've moved on.
I found a rare (ooo-aaah!) Star Machine & Tool clamp on eBay of the perfect size and bit the bullet. McMaster-Carr provided the lining material of the correct width, and a can of Pliobond. Old OEM shoes have been shucked of the worn lining material and cleaned up, the lining material cut to length, so we're ready. Probably do the deed tomorrow. I'm going to bring them up to temp for the curing, so an old gas grill will provide the heat source; not concerned about any stench as some have reported. We shall see how it goes.
I should probably add that all this lining "stuff" may, be a moot point now. I eventually got the Vesrah shoes to stop squalling when the rear brakes were applied.
Not the most orthodox approach
, but it worked.
First made some slight (< 1/16") deep cuts in the lining at a 45 deg. angles, spaced about 1 inch apart from one another. Wasn't expecting much, and didn't get much. Next I greased the cat and wiped the shoes down with WD-40. The end result was no more squealing, but also not too much braking power, which I also expected. Ran the bike around the neighborhood (carefully) the first day, then out on a local freeway the second, being extremely careful to stay well away from any vehicles in front of me. Modest braking power began to slowly return, but not too confident inspiring. On the third day, and after running around the neighborhood, braking power, again, was improving but still not comfortable with it. Decided to pull the rear shoe holder, cleaned up the shoes (and drum) thoroughly with brakleen and acetone. Also went over the drum and shoes with some fairly aggressive crocus cloth strips to knock off the "sheen." I'd done this previously before the "oiling," with no good results; the brakes still squalled.
Presently, after the final treatment the rear brakes are working fine, good braking power with no obnoxious squalling, so we're a happy camper.
FWIW - No one told me to spritz the shoes with a lube, WD40 in this instance. It was my own idea, I took the chance, was aware of the possible consequences, but did the deed anyway. No one told me to jump out of a perfectly good airplane either, but did that too.
Regardless, the squealing issue seems to be resolved with the Vesrah shoes. I'll reline my old OEM shoes just for grins to see how they turn out.
This will probably be the last post of this re-lining adventure. I coated the 4 surfaces with the Pliobond, allowed it to dry, they clamped the bits together with the "rare" Star tool. Once done, I baked the pieces in a gas grill at 325deg. F for about 30 minutes, removed, and allowed to cool. Once the first set was done, changed over the tool to the second brake shoe and repeated the treatment.
All looks fine from a novice's standpoint. Today, I chamfered the leading and trailing edges of the lining material. Are they perfect? Hell no, but just another adventure I had to try. We'll comment later once I've had a chance to see how they work. After a 150 mile ride yesterday with the "lubed" shoes, still no indication of their wanting to sqeal, and the braking power is still good.
One of the original Vesrah shoes to show their leading/trailing edge treatmen:
My shoes before chamfering:
After chamfering:
That company (Raloid Tool) did get back with me, and they want a little over $100 for an abbreviated version of the tool. We obviously passed.
Just another fun day of a vintage vehicle owner when parts are scarce.
Last edited: